Soroti fruits factory set to resume buying fruits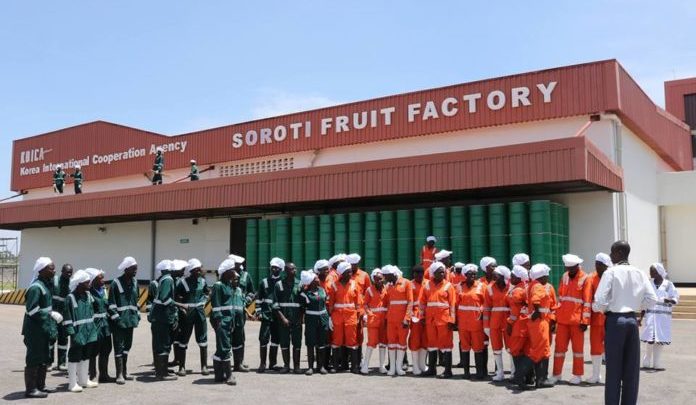 Fruits farmers in Teso and Acholi regions have reason to smile following an announcement by the Soroti fruit factory that it will resume buying fruits from the farmers as the economy begins to pick up in the wake of the COVID-19 pandemic.
The announcement was made by the factory's Executive Director, Douglas Kakyuku Ndawula in an interview with theCooperator.
Ndawula said the factory's management had suspended buying fruits from farmers due to the nationwide COVID-19 lockdown and follow-up restrictions that affected the factory's sales.
"Now that the market is picking up seriously after the lockdown was lifted, we are registering fairly good sales and will soon start buying fruits from the farmers," he said.
According to Ndawula, the 87% drop in sales resulting from business closures during lockdown was slowly being reversed, with the factory now registering a 55% gain in sales.
He said the factory will start buying fruits from farmers by next week and called upon fruit farmers in Teso, Acholi regions to be ready to supply the factory with fruits.
The factory which is located in Soroti was established in 2014 by the government of Uganda as an investment promotion initiative aimed at supporting value addition in fruit processing for the promotion of industrial growth, income diversification and increasing household incomes.
According to Ndawula, since the factory started its operations, they have so far procured about 2,500,000 kilograms of oranges and mangoes from more than 109 farmer cooperatives to produce ready-to-drink juice under the company's Teju brand, as well as fruit concentrate.
"Our main products are Juice concentrates and ready-to-drink mango, orange and lemon juice which must meet the required standards, domestically, regionally and internationally.
He urged farmers to focus on cultivating improved fruit varieties that are needed by the factory.
 "The factory will only buy improved mango varieties including Boribo, Kakule, Tommy Atkins, Zillet, Apple Mango, Kent, Keitt and Haden, while for oranges we only buy Valencia, Washington Naval and Hamiline," he said.
 Meanwhile many farmers welcomed the factory's move to resume buying fruits, describing it as a great relief to farmers who have endured harsh living conditions under the COVID-19 pandemic.
 Samson Opolot, one of the fruit farmers in Atira Sub County in Serere district, hopes to earn some money to pay school fees now that schools have been allowed to open on October, 15.
 "When the President opened up candidate classes on Sunday, I was speechless because I had nowhere to get school fees. But if the factory resumes buying fruits next week, that will save some of us," he said.
Buy your copy of thecooperator magazine from one of our  country- wide vending points or an e-copy on emag.thecooperator.news