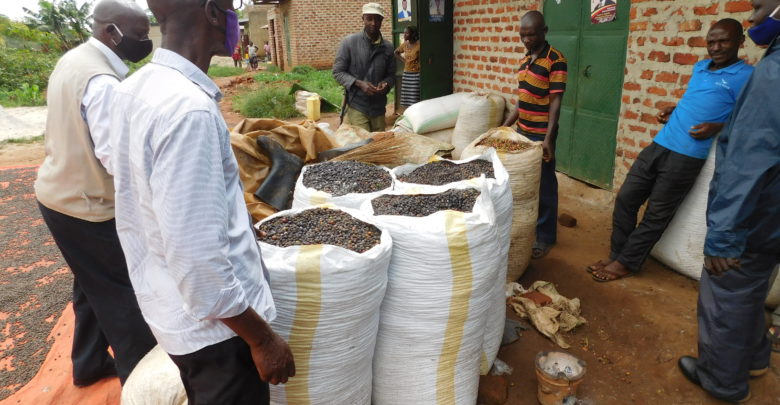 The Uganda Coffee Development Authority (UCDA) has declared war against traders engaged in buying immature coffee from farmers.
UCDA's regional extension officer for Rwenzori region, Emmanuel Tumwizere, said picking immature coffee berries affects the quality of coffee in the country.
"Coffee is continuously losing quality because of some farmers harvesting immature coffee which ends up rotting. Others use poor post harvest handling methods like drying it on the bare ground, which also negatively impacts on its quality," he said.
Even consumers are put at risk by immature coffee, which Tumwizere says can become "hazardous".
"When farmers pick immature coffee, they first keep it in sacks and hence it ends up molding. This develops a toxic acid which is hazardous to consumers because it causes cancer," he said.
He further noted that such poor harvesting practices threaten to undermine the progress that has been made in promoting coffee farming in the region.
"People in the Rwenzori region have responded positively to planting more coffee but there are some farmers who are not adhering to good harvesting standards by harvesting immature coffee," he said.
Traders involved in buying immature coffee tend to lure farmers into selling to them by offering more money for it than they would pay at harvest time when mature coffee floods the market. 
According to locals, traders buy a basin of immature coffee at Shs 10,000, which Tumwizere said is more than what they would get for coffee that is ready for harvest. 
In response, UCDA has intensified efforts to curb the vice by threatening to arrest farmers involved in the trade.
"We shall start arresting any farmer that we find harvesting immature coffee because it affects the quality of coffee on the market which not only affects the farmer but also the country's exports" he said.
Taking action
On Wednesday this week, Tumwizere impounded 26 sacks of immature coffee and arrested two workers accused of engaging in the illicit trade at a coffee store in Kiburara village, Hakibale Sub County, in Kabarole district.
The operation, which was conducted by Tumwizere and an official from the Operation Wealth Creation (OWC), followed a tip off from locals that some traders were buying immature coffee within their village. The traders were apprehended and handed over to the police, and their coffee impounded.
In 2017, during an operation OWC officials impounded more than 500kgs of green coffee berries from traders in Mitandi Kyamukube town council, now part of Bunyangabu district and arrested one of the traders.
Richard Waako, the in-charge, defence, in Kiburara village where the culprits were netted, said the two individuals had been arrested twice before over the same practice (dealing in immature coffee), but they have persisted in the illicit trade.
Buy your copy of thecooperator magazine from one of our  country- wide vending points or an e-copy on emag.thecooperator.news