Rwampara farmers urged to embrace crop insurance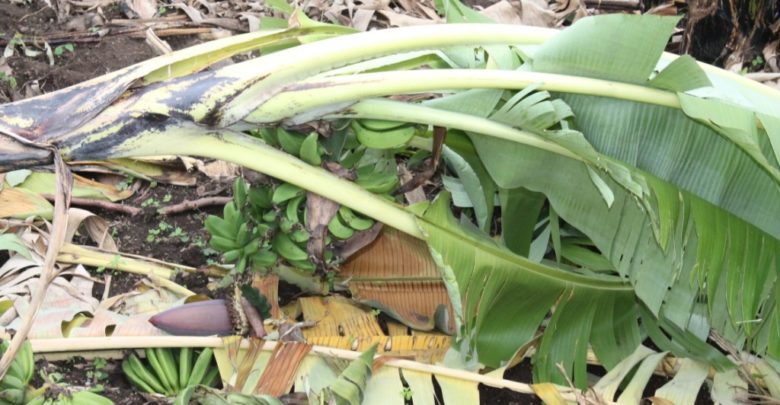 Farmers in Rwampara district have been urged to embrace crop insurance as one way of mitigating losses resulting from natural calamities. 
The call was made by the district's Chairperson, Asaph Muhangi following a heavy downpour that ravaged the district Sunday, destroying hundreds of banana plantations and other crops. The hailstorm affected more than 200 families in areas of Kikuru, Rukandagye, Kitunguru, Rwemigyera, and Katereza among others in Rwampara district.
While assessing the damage to crop farms and infrastructure on Monday, Emmy Kateera Turyabagyenyi, the deputy Resident District Commissioner (RDC) of Mbarara district, noted that entire plantations of banana, cassava as well as houses and churches were destroyed by the storm.
Insure crops
For his part, Rwampara district Chairperson, Asaph Muhangi advised farmers to acquire compulsory crop insurance to cushion them against losses resulting from such eventualities in the future.
"If all these farmers were insured, then the magnitude of their losses would be small," he remarked. "We need to sensitize our people to take up crop insurance."
In FY2016/17, the government established the Uganda Agriculture Insurance Scheme (UAIS) in with the aim of cushioning farmers from losses resulting from natural disasters. The scheme is run as a Public-Private Partnership between the government and more than ten insurance companies under the Agro consortium umbrella.
Under the scheme, small-, medium- and large-scale farmers can access insurance cover for both crops and livestock at subsidized rates. 
 Appeal for help
Muhangi further appealed to the government to offer emergency relief aid to over two hundred families that suffered particularly heavy losses as a result of the downpour.
"The people of this area have nothing to feed on since all their plantations have been destroyed. We appeal to the Ministry of disaster preparedness and management to come to our rescue," he said.
Mrs. Jovia Tabirwa, a farmer whose house and half-acre banana plantation were levelled by the storm is worried that she will be unable to educate her children as a result.
"Matooke is my major source of income. I doubt that I will be able to raise money to pay my children's school fees when they return to school, now that I have lost my plantation to the rain," she said.
Rwampara district is one of the leading matooke producers in Uganda.
In recent years, the government has argued that farmers organized in cooperatives stand to benefit from a vast range of agricultural services, including Agriculture insurance, agro-credit and so on.