President Museveni caution farmers harvesting and trading immature coffee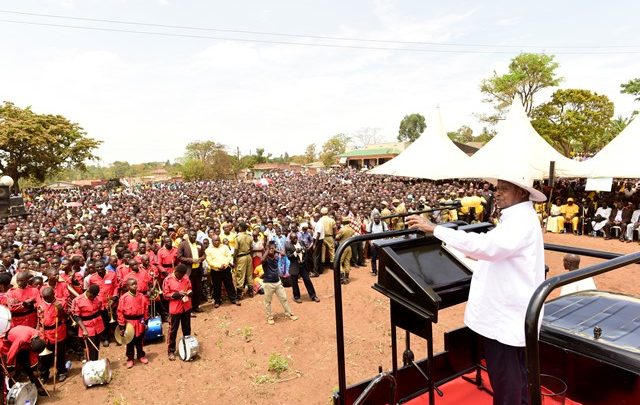 President Yoweri Museveni has cautioned farmers and traders against harvesting and trading in immature coffee. He said this led to compromising the quality of the coffee production which inevitably affects the commodity's demand on the international market.
The president made the remarks while commissioning a Sh950m coffee factory in Kikwaya Sub County Kikwaya trading center in Kakumiro district. The investment belongs to Mzee Karoli Kamanyire, a prominent liberation war veteran. The facility has an installed capacity of processing 10 tons of coffee per day. The President facilitated the processor to resume production following the destruction of machines during an attack by Allied Democratic Forces (ADF) bandits. Mzee Kamanyire's other family ventures, among others, piggery, a flour mill and carpentry work.
President Yoweri Museveni however, called on farmers in the country to stop harvesting premature coffee saying that processors of the crop should reject premature coffee beans and strive to ensure total eradication of the vice.
President Museveni revealed that harvesting premature coffee, compromises the quality of the finished product adding that this vice affects Uganda's competitiveness in the world market.
He asked all processors to reject such premature coffee beans and ensure that they totally eliminate this vice among farmers.
Mr. Museveni urged farmers in the area to increase coffee output so that the factory's potential benefits the community in Bunyoro Sub-Region. He urged Bunyoro Residents to stop sleeping and alcoholism and spend their energies to create household wealth to develop.
President Museveni observed that farmers in Brazil harvest 40 kgs of coffee berries per plant, which yields 8 kgs per plant after processing. He, therefore, stressed that there is a need for Ugandans to put in more efforts towards achieving production similar to that of farmers in Brazil.
He said NRM Government is to transform Sub-Counties into mini industrial zones adding that plans were underway to provide the youth with grain and feed mills to facilitate income generation. Under this arrangement, he said, they will be able to produce starch for use in manufacturing medical tablets and that furniture workshops would be established in all parts of the country to stop dependence on supplies from Kampala and other areas.
Mr. Museveni commended Mzee Kamanyire for creating income. He stressed that his visit to Kakumiro serves to mark memories of their experiences on the 6th February 1981 when the then NRA passed through the area after attacking Kabamba barracks.
He observed that the people of Bunyoro Sub-Region have got the potential to generate a good income from milk production like Kiruhuura District in South Western Uganda, which has 18 Sub-Counties, with 296 milk plants.
Finance and Economic Planning Minister, Hon. Matia Kasaija informed residents to grow more coffee in the area to make the factory active and warned them on harvesting immature coffee saying that it will kill Uganda's image.
However, Mzee Karoli Kamanyire saluted President Museveni for the revival and upgrading of his coffee factory.