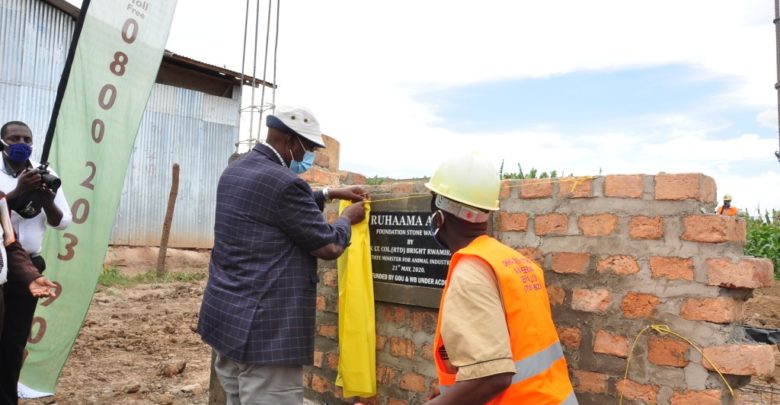 Ministry of Agriculture, Animal Industry and Fisheries(MAAIF) has started on constructing storage facilities and rehabilitation of road chokes in farmer communities across the country.
The development was revealed by the State Minister for Animal Husbandry Bright Rwamirama while commissioning the first cluster of construction works for community post-harvest handling and rehabilitative works on farm access road choke points at Ruhaama area cooperative enterprise in Ntungamo district.
The 57-district Agriculture Cluster Development Project(ACDP) is being funded by the World Bank to the tune of $150 million. Rwamirama says that when the 57 pilot districts are done, the project will be extended to cover the rest of the country.  
He told theCooperator that government is moving away from giving free inputs to farmers because it has proved unsustainable in the long run, and that focusing on post-harvest handling and market-enabling infrastructure will address critical challenges like storage, low level of value addition and poor access to markets due to bad road networks.
 "We recognise that a competitive, profitable and sustainable agricultural sector can be achieved through various strategies, and the ACDP is one of them because it focuses on creating a link between the producer and the market," he says.
The post-handling facilities are particularly targeting 5 of the traditional crops grown in most of Uganda, ie Beans, Cassava, Coffee, Maize and Rice, and Rwamirama hopes the facilities can motivate their increased production.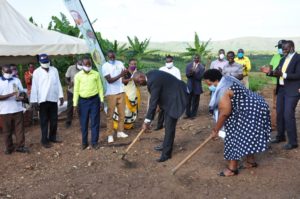 He says the ACDP is particularly targeting organised farmer groups and cooperatives which aggregate farmer produce and carry out common marketing. In Western Uganda, project implementation has started in Isingiro and Ntungamo districts. In Ntungamo, the project is supporting four farmer cooperatives to the tune of shs. 940 Million. 
The beneficiaries are; Kitembe Farmers Group, Ruhaama Area Cooperative Enterprise, Nyakyera Rukoni Area Co-operative Ltd and Kashate Gamba Nokora Group.
In Isingiro, 9 cooperatives have been identified and supported to the tune of shs.1.6billion. One of the storage facility in Masha sub county, Isingiro district is projected to store about 200 metric tonnes of produce, while the one in Ruhama sub county in Ntungamo is expected to store up to 300 metric tons.
Rwamirama urged farmers embrace farmer groups and cooperatives to be able to benefit from such government projects. "There are many more projects to come," he said, adding, "By April, 2020, my ministry had signed grant agreements with 118 Farmer organizations from 24 of the 57 pilot districts and funds have been disbursed to most of these organizations."
He urged the identified cooperatives to put the funds to good use, warning, "We(MAAIF) shall not tolerate any abuse of these funds by either the grant beneficiaries or the contractors of the works."
Regarding transport infrastructure, the Minister noted that rehabilitation works on Road Chokes would soon begin in the districts of Isingiro, Amuru, Iganga, Nebbi, and Ntungamo. "Contracts worth shs.14.5 billion have been signed with respective contractors," he said. 
"I again caution you (contractors) to do quality work. Our technical teams from the ministry and the district should ensure that there is value for money in the works executed," Rwamirama added.
Kababo Byabagyenyi, the Chairperson Rukuuba Farmers' Cooperative Society thanked MAAIF for supporting Isingiro farmers with a post-harvest handling facility, noting that, "This facility will actually become a bulking centre, a storage facility and a marketing centre where the sorting, grading, cleaning and bagging will be best done." 
He assured MAAIF officials that his cooperative had already mobilized 20 farmer groups who will be trained in good agronomic practices for particularly beans, to be able to take advantage of the market across the border in in Tanzania.
Gertrude Nakacwa another farmer in Isingiro also welcomed the storage facility, noting that farmers would now be able to hold out for good prices for their produce, which would mean improved incomes. She however appealed to MAAIF to also think about pest-control interventions, noting that in addition to persistent droughts, pests were now one of the gravest threats to farming in Isingiro district.