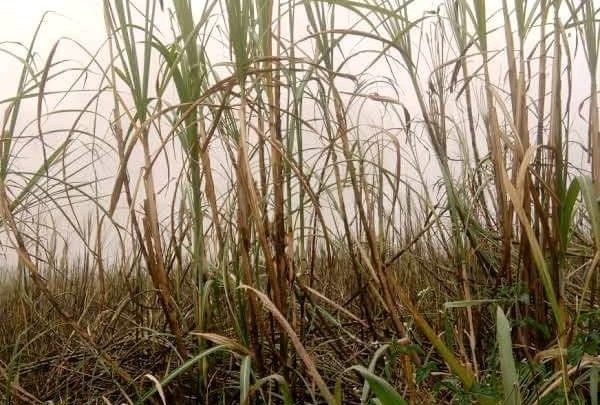 Sugarcane farmers in Masindi district have expressed concern over a recent spate of fire incidents that have destroyed sugarcane plantations and left the affected farmers counting losses.
Justice Twinowaitu, a resident of Kabalye settlement in Masindi municipality, reported losing 5.5 hectares of his sugarcane plantation to a fire that struck around 6:00 am in morning. He suspects that it was a case of arson.
"Where could such a fire have come from in the morning hours?" he wondered, before concluding: "This fire was intended."
Twinowaitu further lamented that in instances when their cane gets burnt, Kinyara tasks the affected farmers to harvest it themselves, something he said is too costly for most of them to afford.
He also blamed the tragedy on delays by Kinyara to harvest mature cane from farmers, which exposes it to a variety of risks.
"Our cane wouldn't have been burnt if it had been harvested early. My cane was 24 months old. The delayed harvesting of cane is also causing us problems," he lamented.
Kinyara Sugar Ltd typically harvests sugar cane at about 18 months.
"These are the challenges we need the concerned parties like Masindi Sugar Cane Farmers Association Limited (MASGAL) and our leaders to address," he appealed.
He also proposed that government encourage another sugar cane mill to be established in Masindi district, saying that the available supply of cane is too much to be handled by a single mill.
Other farmers have suffered a similar fate.
In the same week, Enock Kahororo also a resident of Kabalye settlement in Karujubu division Masindi municipality also lost 7.7 hectares to cane fires whose cause remains unknown, while Kanaginagi Ateenyi, a prominent sugar cane farmer in Masindi district lost 50 acres.
Dry spell to blame?
Whereas several of the affected farmers blamed the recent fires on a variety of alleged perpetrators, it has become a common occurrence for sugar cane farms in Masindi to suffer from the fires during the dry season.
Every dry season the Masindi district security committee moves around the district sensitizing the local populace on the dangers of the fires. They also introduced information campaigns on local radio stations discouraging individuals from carelessly starting fires that could end up destroying other people's farms.
The initiative has led to a reduction in the number of reported fires compared to the previous years.
Efforts to get a comment from Cosmas Byarugaba, the Chairperson MASGAL, an umbrella body that brings together cane farmers were futile, as he did not respond to repeated calls.
Kinyara response
When contacted by theCooperator, Kinyara Sugar Ltd Communications Manager, Richard Wanok, admitted that several fires have been reported in the district.
"So far 81 farmers have been affected. A total of 7000 hectares have been burnt, but we are ready to assist them," he said.
Responding to some farmers' accusations about the company's alleged delay to pick their cane, Wanok said it is not intentionally done to leave farmers' cane to dry in the field.
"Unfortunately, all the cane can't be picked at the same time. We are equally affected by such incidents."
Buy your copy of thecooperator magazine from one of our  country- wide vending points or an e-copy on emag.thecooperator.news