Masindi cattle keepers cut off from market by floods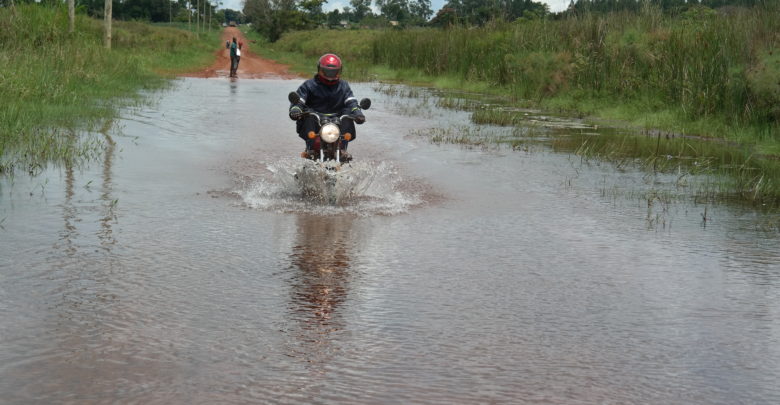 Cattle keepers are unable to access Masindi town after floods cut off the road connecting Masindi and Kijunjubwa Sub County in Masindi district.
This followed heavy rains that washed away the culverts at Kiizi swamp in Kyarutanga village, making it difficult for people and vehicles to cross.
Kijunjubwa Sub County is predominantly dominated by cattle keepers who sell their animals, milk and other products in Masindi town.
For close to  two weeks now, the road connecting the sub county to the town has been cut off by floods, forcing travelers to pay to be carried across the flooded section.
Alex  Mwijukye, one of the people helping travelers to cross, says anyone going through the flooded section not only risks being washed away by the fast moving water but also  being attacked by  crocodiles and hippos.
Nevertheless, the climate calamity has proved lucrative for Mwijukye and his colleagues who charge top dollar for their services. 
"We charge between Shs 2000 and 5000 per traveler and earn between 70,000 and 90,000 shillings each day from this work," revealed Mwesigye, who also carried our reporter across the flooded area.
Travelers theCooperator found at the site said that their businesses have been greatly affected since they are unable to make their way across to the town, and yet paying to be helped to cross is very expensive.
The cattle keepers are worried that, without access to the town, the price of milk and other  products may reduce significantly since they have no access to the market.                                                                                                                                                                                                                                                                                                                                                                  
The chairperson Kyarutanga LC I, Yokoyasi Sabbiti, says there are two swamps that have flooded on the same road, and asked for the government's intervention to  address the situation.
Steven Kawandwa, the Uganda National Roads Authority (UNRA) maintenance engineer blamed the floods on the increased water levels. He revealed that UNRA wants to replace the destroyed bridge but cannot do so now since the rains are still very heavy.
Buy your copy of thecooperator magazine from one of our  country- wide vending points or an e-copy on emag.thecooperator.news