Masaka Pig Farmers Cooperative targets increased production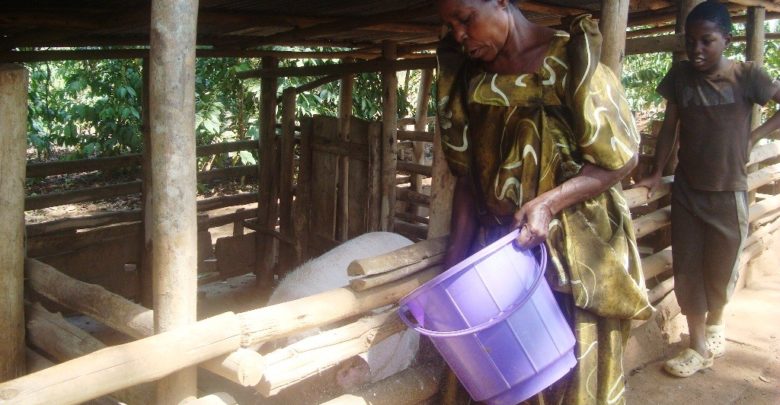 The Masaka District Farmers Association (MADFA) has undertaken a vigorous campaign to promote piggery enterprises in order to boost local production.
Charles Ssekyondwa, the Chairperson, Greater Masaka Pig Farmers Cooperative Union Limited, says the cooperative is the process of evolving from the traditional methods of pig-rearing to more modern technological approaches that can potentially improve both the breeds and overall productivity.
"Lately, the demand for pork and its products is very high. It is time we improved our production capacity so as to enable our farmers earn more money from the business," he noted.
Ssekyondwa reveals that, in conjunction with the government programs of National Agriculture Advisory Services (NAADS) and Operation Wealth Creation (OWC),  the cooperative has already obtained hybrid piglets to enable farmers integrate their farms with improved breeds, whose gestation period is shorter compared to the traditional varieties.
The cooperative is also considering promoting adoption of Camborough pigs breed which is fast growing and high yielding in terms of turnover.
"Now that we have obtained the better breeds, we are confident that the supply will soon increase," said an upbeat Ssekondwa.
Meanwhile, Dr. Lawrence Mayiga, the Masaka District Production Officer (DPO) has also revealed that livestock scientists have been working on a new technology known as "Livestock Feeds Calculator," that will soon be unveiled to farmers in the area.
The Feeds calculator is a mobile phone software that can monitor the animals' growth rate and guide farmers on appropriate feeds quantities for each stage of growth so as to avoid wastage of feeds and underfeeding of animals, tendencies that have a direct impact general farm output.
"All these inventions are aimed at improving our local production capacities for increased earning," Mayiga said.
The new technology was developed through collaboration between Makerere University College of Veterinary Medicine, Animal Resource and Bio-Security and the International Livestock Research Institute Uganda.
The Masaka DPO further revealed that, in addition to the feeds calculator, the cooperative will receive reliable Artificial Insemination kits, as another way of reducing on the cost of production and ensure bio-security by reducing the risk of spreading diseases between farms.
"Our main focus is now put at increasing productivity and promoting value addition in order to enable farmers to make substantial earnings from pigs farming, which is being established as an enterprise. All these efforts are part of the modernization drive that has been missing in the pig rearing sector which was previously considered as a low-class venture," he said.
   
Estimate district production figures indicate that six out of ten households in the area do rear at least one animal, according to Dr. Mayiga. He says plans are underway to generate a comprehensive register of all farmers to support better planning.