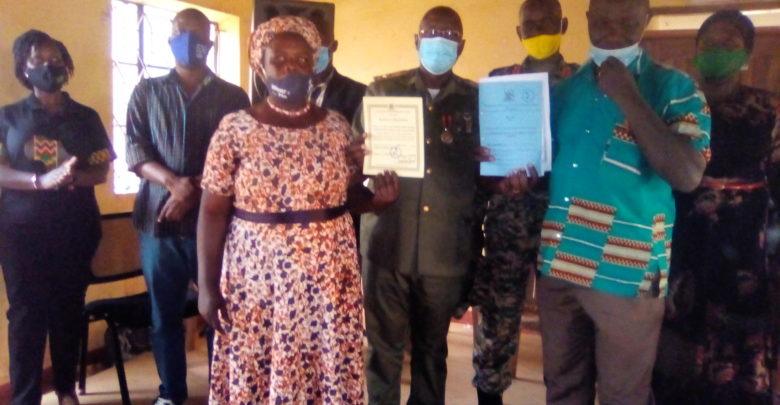 Members of 36 Credit Cooperative Societies (SACCOs) in Kikuube district have received certificates from the Microfinance Support Centre (MSC), enabling them to access over Shs1 bn that was earlier wired to their accounts under the Presidential Initiative on Job and Wealth Creation (Emyooga).
Racheal Kobugabe, the Business Development Service Officer, MSC, handed out the certificates to the SACCOs' members Tuesday at Buhimba sub-county headquarters and at Kabwoya primary school.
Kikuube District Community Development Officer, Annette Kabahaguzi, says that the 36 SACCOs were created out of 826 Emyooga groups. 18 of the SACCOs are from Buhaguzi East Constituency, while the rest are from Buhaguzi Constituency.
The 36 SACCOs will share a total of Shs 1.12 bn worth of Emyooga funds.
Speaking during the handover of the certificates to the beneficiaries, Kobugabe noted that the funds have been on the SACCO accounts since last year, but were inaccessible to members before getting they had received the certificates.
She noted that Youth Action for social, political, and economic development, Operation Wealth Creation, Microfinance Support Centre, and the UPDF will be responsible for the monitoring and implementation of the Emyooga programs.  
She added that each SACCO will be required to pay 8% interest on the money received to the government per year.
Kobugabe warned SACCO leaders against unscrupulous people who may infiltrate their SACCOs and associations to cheat the members. 
"Nobody should come out of your association and tell you to pay money before you can access these funds. The government, through MSC, paid for passbooks and bylaws in order to expedite the process of releasing the funds. The only money you are supposed to pay is for your savings or shares," she advised.
Amuran Tumusime, the Resident District Commissioner, Kikuube district, commended the government for the Emyooga initiative, which he said will help citizens to create jobs and fight against poverty. 
However, he challenged the beneficiaries to put the money to proper use.
"This money is for helping you to develop yourselves and move out of poverty, so when you get it, don't use the money for alcohol, weddings, buying clothes, or marrying second wives," warned Amurani. 
Steven Itaza, the MP-elect for Kikuube district, also called upon the beneficiaries to invest in enterprises that will enable them to multiply the funds such as commercial farming, goat rearing, and boosting on their already existing businesses.
While most beneficiaries expressed excitement about the capital that they hope will help them to boost their businesses and create jobs, others complained that the Shs 30m given to each Emyooga association is very little, given the number of members in some associations.
Fred Wairima, the Chairperson of Buhaguze East Produce Dealers that has 1800 members, wondered how he would distribute Shs 30m among all the members.
"All these members need at least to share some of this money. How will I distribute 30 million shillings to this number," he demanded and called on the government to allot more money to the larger Emyooga associations.
Buy your copy of thecooperator magazine from one of our  country- wide vending points or an e-copy on emag.thecooperator.news