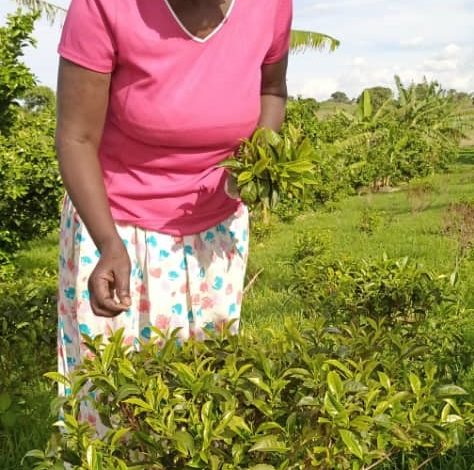 ZOMBO –Tea agriculture has gained a big toehold in the West Nile district of Zombo but frustration is growing among farmers over the lack of a processing factory and the pitiable prices raw tea fetches on the local market.
In 2013 and 2014, tea agriculture was introduced in Zombo, through the Northern Uganda Social Action Fund (NUSAF), prompting the formation of the 300-member Zombo Tea Growers' Cooperative Society Limited in 2016. The farmers have since planted 500 acres of tea.
https://thecooperator.news/zombo-tea-cooperative-in-expansion-drive/
Samuel Oringtho, a member of the cooperative, said the absence of a factory is discouraging many farmers from actively participating in tea agriculture.
He said about 400 acres of tea are already mature but farmers are getting very little proceeds because there is no local factory to process the tea. 
Oringtho planted the first few acres of tea in 2016 and again in 2020. Now, he has a total of 11 acres, but is yet to get tangible benefits. All farmers do is harvest a few basins and pound the leaves using a mortar and pestle, ferment and pound again before selling locally.
"We sell a small cup of tea between Shs 150-200. It would require between 4-5 cups to make a kilogram, implying that a kilogram costs between Shs 800-1,000 only," Oringtho told theCooperator.
"The entire manual processing is tedious and demotivating and only a small portion of the tea plantations are harvested, leaving huge chunks go to waste," he said.
Farmers say they don't know how much a kilogram of tea costs in big Ugandan markets. According to tea auctions, a kilogram of Ugandan tea cost Shs 4,810 between January 12-13, 2021.
Oringtho said he tried and failed to convince many farmers to join tea growing. 
"Farmers say they will join the business when a factory is established. Even if I tell them that the factory will be set up when raw materials are available, they don't budge," Oringtho said.
Richard Omirambe, another member of the cooperative, who planted two acres of tea in 2015, said many tea farmers are now concentrating on other crops.
"A farmer only goes and plucks a basin or two when pressed for money, because pounding tea is very difficult. Even women who always endeavor to harvest whatever they plant are dispirited," Omirambe said.  
Geoffrey Jungiera, the secretary of the cooperative, said many tea farmers are indeed shunning tea growing.
"Some farmers have even threatened to cut their plantations to open land up for other crops, but we are still telling them to hold on as we partner with other organizations and individuals to set up a mini processing plant as we wait for a bigger factory," Jungiera said. 
"Already more than 400 acres of tea are mature and farmers are wondering what to do with their tea leaves. The mini factory is what we need immediately," he said.
Tea was initially introduced in Zombo district by the Milton Obote I government in the 1960s (The Abanga tea estate) measuring between 30-40 acres. However, the project collapsed due to the political turmoil of the 1970s. The estate, which remains mainly unattended to, is used by some residents.
David Baziwane, a senior projects officer, Agroindustry, at Uganda Development Corporation, UDC, said the government is already doing a feasibility study to pinpoint where to build the tea processing factory in Zombo.
"The study may be finished by the end of June 2021. Once that study is done, we shall know where to put the factory in Zombo and how big it should be," Naziwane said.
Buy your copy of thecooperator magazine from one of our  country- wide vending points or an e-copy on emag.thecooperator.news