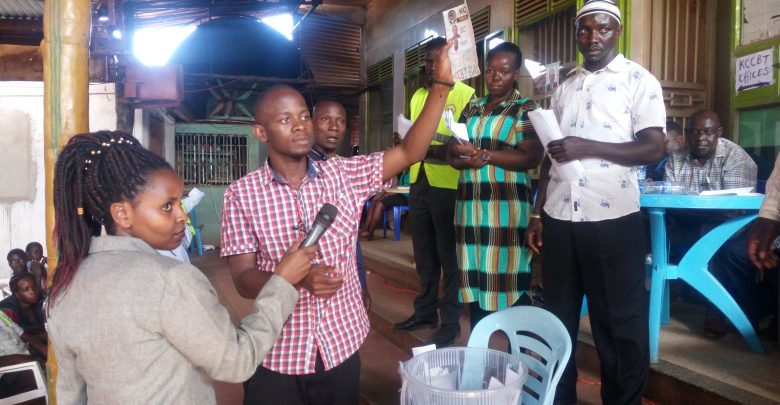 Kampala, Uganda: Kampala Civic Center Boda Boda Transporters Cooperative (KCCBT) has got new office bearers. The cyclists cooperative held elections for its members at a colorful Annual General Meeting( AGM) held at their offices in Makindye, a Kampala suburb on Sunday.
Amongst those elected  were Mr. Ssemakula Lasto the new chairperson after scooping 29 votes against incumbent's Kasesa Abdallah who got 18, and Mr. Mukembo Muhammed who got 14 votes; Mr. Byarugaba Richard  for Vice Chairman after garnering 46 votes against Mr. Kiyimba Levis' 15 votes.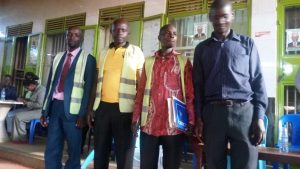 Mr. Sekulima Amir Ssebowa retained the treasurer's role after beating Mr. Ssekyanzi Charles in a hotly contested competition that saw him win by a margin of one vote.
Mr. Sande Leonard  and Lukyamuzi John went unopposed for the posts of Secretary KCCBT and Chairperson Supervisory Committee respectively.
The new chairperson, Ssemakula Lasto hailed the members for entrusting him with the mantle to steer KCCBT ahead. "I want to thank all those who elected me as chairperson. We shall work as a team together with the old cabinet to steer our cooperative further," said Lasto.
The Vice Chairperson, Byarugaba Richard said he was overwhelmed with excitement after the voting. "They (members) have shown me the love they have for me, I will not disappoint them," said the beaming Byarugaba.
Addressing the delegates, the District Commercial Officer Kampala, Mr. Titus Odongiu  handed over the cooperatives new permanent certificate issued by the Registrar of Cooperatives. He urged the members to increase their savings now that they had a permanent certificate.
"The fact that you now have a permanent certificate is an indicator that you are now born. Please save so as to grow big. Where is your future if all that you earn ends up in your stomach?" asked Odongi
He expressed his gratitude at the surpluses that KCCBT made in the financial year 2017- 2018. "You are not broke as a Cooperative. The fact that you made surplus in 2018 is good enough. The money may be small. But it's yours," he said.
He hailed the Uhuru Institute for Social Development for standing together with KCCBT by providing bikes on loans. "I must appreciate Uhuru Institute, because they were supposed to officially start dealing with you today, after getting this permanent certificate, but they have been supporting you even before you got recognized," he said.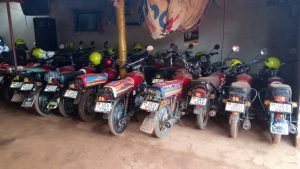 According to the audit report, KCCBT made a surplus to the tune of UGX1.7m. Mr. Owor Edison, who conducted the audit said the KCCBT share capital stood at Ugx1.3m, while the current assets stands at UGX 6.2m.
KCCBT enrolled as an agent of Freedom Fund and the Piki-Credit facility in April 2017. Piki-Credit is the signature product for the Freedom Fund Enterprise of The Uhuru Institute, which provides flexible loans to cooperatives and their members. The loan is repayable in approximately 16 months only.
The boda-boda business in Kampala is lucrative. The influx of people in the city and the resultant heavy traffic has posed a challenge in transportation. People spend hours trapped in endless traffic, arriving late at their destinations. Boda-bodas motorcycles provide an efficient solution to the transport crisis because of their ability to navigate easily through traffic and access remote areas. The sector employs close to 2 million people, approximately 8% of Uganda's population.
The event was also attended by the Chief Executive Office The Uhuru Institute for Social Development, Mr. Leonard Okello, local area councilors and officials from the Ministry of Trade, Industry and Cooperatives.