Bushenyi Residents Launch Pressure Group to Hold Leaders Accountable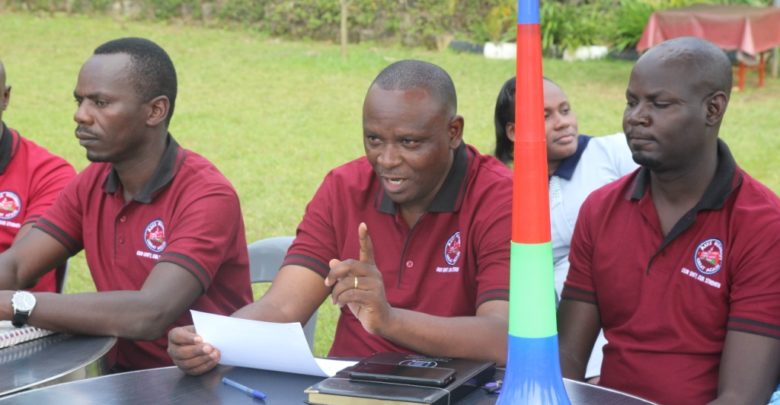 BUSHENYI: Residents of Bushenyi District in Western Uganda have pledged to ensure that their local leaders are more accountable, by forming a pressure group designed to scrutinize Local Government performance at all levels.
The pressure group fashionably named "Make Bushenyi Great Again" (MBUGA) was announced at a press conference held at Premier Hotel in Bushenyi town on Tuesday.
Apollo Kakonge, one of the leaders of the pressure group and a veteran civil society activist in the area told theCooperator that the pressure group's idea was first mooted in February 2017, and has since gained immense traction among local residents after seeing some of its members tirelessly pushing local government authorities to deliver on the social service needs of the community, from upgrading community access roads to significantly reducing teacher absenteeism rates in the District's public schools, among others.
Mr. Kakonge noted that the pressure group is voluntary, and only draws its support from the local community. "We don't get aid or grant from anyone. We only collect any needed logistical support from amongst ourselves and the community, many of whom are joining our cause. Ours is a local solution to local problems – we don't want a solution from outside," he says.
MBUGA's chairperson Pison Mugizi told theCooperator that the pressure group is committed to making Bushenyi the model district it used to be; "And one of the surest ways of doing so is ensuring that we have an accountable leadership," he said.
He said MBUGA would target issues like land grabbing, environmental destruction, corruption, electoral justice, and the quality of health services in the district, among others.
Mugizi noted that the approaching election season was an opportunity for citizens to appraise the current set of leaders against their manifesto commitments, and called upon residents of Bushenyi, in particular, to use the ballot to replace bad, corrupt, and ineffective leaders with good, decent and transformative leaders.
"We should not allow deception to replace the effective implementation of sound economic and social policies. As MBUGA, we call upon each one of us to take the coming elections seriously and insist on electing decent politicians," rallied Mugizi.