Bundibugyo Vanilla Farmers Mourn Losses to Heavy Rains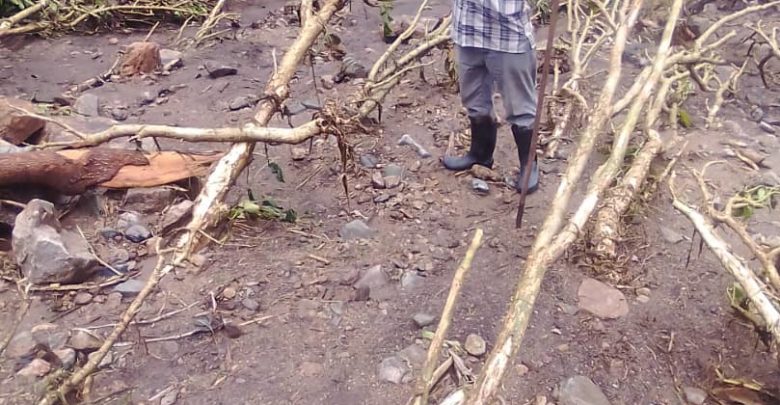 BUNDIBUGYO: Vanilla farmers in Bundibugyo district are counting losses following floods and landslides that have hit the area since last month.
Vanilla is mostly grown on the hilly slopes of the district, and alongside Cocoa, remains one of Bundibugyo's most valuable cash crops.  A kilogram of fresh vanilla fiber fetches Shs. 200,000. Many homes grow the crop on averagely about 100 square meters each, while those on a large scale plant it on an acre.
As last year wound down, farmers had anticipated to have their first harvest around December 15, only to be sabotaged by the onslaught of incessant, unexpected rains.
"I have half an acre of vanilla from which I expected to get millions. But now I'm not sure if I'll be able to get even enough to cover my costs, thanks to these rains," says Dan Muhumuza, who has been growing the crop for years now.
The heavy rains peaked between November and December 2019, and the Bundibugyo District Production Officer Light Kisembo says many farmers depending on Vanilla production for livelihood have been left helpless after floods & hailstorms destroyed their plantations.
"This has been a big tragedy to most farmers & the district at large because after waiting for about three years, heavy rains have washed away the only hope for farmers," he says.
"Some farmers have bank loans, which they expected to clear after harvest," he says.
Kisembo says that for most farmers, the loss is even more painful because of how long farmers have to tend to the crop from planting to harvest. Unlike other crops that take between 3-4 months, Vanilla takes up to three years to mature.
On average, an acre of vanilla can produce 200 kilograms of the crop per season. Middlemen buy a kilogram at Shs. 160,000, while established companies can buy it at as much as Shs. 200,000 per kilogram when mature.
Because of the high prices that the crop fetches, farmers in Bundibugyo have also had to contend with thieves, who are always out to steal the crop before it is ripe for harvest in gardens. As a result, farmers in the district have organized themselves into a group – Bundibugyo vanilla Wembule team, through which they hire armed security guards to guard their plantations.
This season, Muhumuza told theCooperator that he had anticipated to harvest about 100 kilograms of vanilla, and had invested significantly in safeguarding his plantation, going to lengths to hire a security guard. "I was paying him (the guard) Shs. 200,000 a month," he says.
In total, Ronald Mutegeki, the Bundibugyo District LCV Chairperson says last month's floods and hailstorms left 16 people dead, several homeless, and gardens destroyed.
"Government and well-meaning NGOs should come to our rescue, because the coming months will be hard, not only in terms of food for consumption but also in regard to household incomes," he says.